News
October 22, 2012
Workshop on Financial Sustainability for NGOs
---
Workshop on Financial Sustainability for NGOs, led by Fouad Hamdan, a political advisor working on democracy-building projects in the Arab World, and held at Beirut.
June 11, 2012
MoHO 2nd National Meeting
---
Following the success of the first introductory meeting, the Arab Image Foundation hosted the second Networking Meeting at its premises on the 11th of June. The meeting's agenda focused on emergency preparedness and planning.
Read more on MoHo Website
Minutes of meeting [PDF]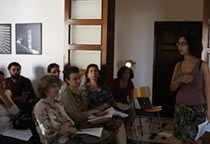 May 21, 2012
Training at the architecture of the 20th century archive center; Institut Français d'Architecture et du Patrimoine, Paris
---
Project Officer Claudine Abdelmassih had a general overview of the functioning of the archive center. Working sessions were scheduled with head of institution, David Peycere, the digitizing, restoring and consulting departments as well as database manager and researchers.
March 26, 2012
MoHO 1st National Meeting
---
As an initial step towards the creation of a network, the meeting was divided into an introductory phase, during which each partner and participant organization briefly presented the nature of their work, focusing on their background in cultural heritage through their area of expertise; the second phase consisted of a round-table discussion, assessing and tackling common issues and identifying potential opportunities for cooperation.
Read more on MoHO website
Minutes of meeting [PDF]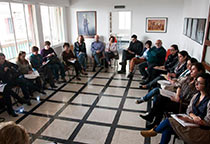 March 13, 2012
Strategic Communication & Visibility Strategy workshop
---
The training aimed at helping the Modern Heritage Observatory's institutions to develop a communication and visibility strategy. "In its first pillar, the workshop aimed at framing a collective umbrella for the four partners engaged in the project while equally devising a title and logo for their initiative. The second pillar identified the various target audience of the project and provided adequate messaging for it. This was labelled under near-term plan of action. Finally communication tools, like the website and e-newsletter were tackled and refined, and roles and responsibilities between the four partners were agreed upon. A medium to long-term plan of action was also set".
1
|
2
|
3
|
4
|
5
|
6
|
7
|
8
|
9
|
10
|
11
|
12
|
13
|
14
|
15
|
16